Bus Transportation
January 2023 Duplin County Bus Transportation Update: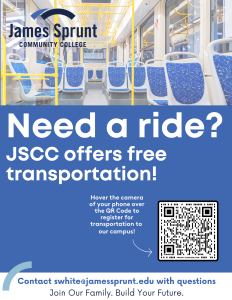 Please click here to complete the Summer 2023 transportation request form.
This request form is for the 2023 summer semester only. The summer semester is from May 22 through August 2. The transportation request form for the fall 2023 semester will open on July 17, 2023.
Duplin County Transportation has received a higher volume of requests for transportation assistance and is doing everything possible to accommodate everyone. Therefore students should identify alternate means of transportation until they receive a confirmation that their request was approved.  All transportation requests may take up to five business days to process.  
James Sprunt Community College (JSCC) Rider Policy
Students must be a resident of Duplin County and enrolled at JSCC to receive free transportation.
All riders will receive an automated call/text message each evening to alert them of their scheduled pickup time for the following day. They will also receive an automatic reminder call 30 minutes before pickup.
Riders must be prepared for pickup at least 15 minutes before the scheduled pickup time.
Drivers will only wait for the rider to board for 2 minutes after arrival.
The pickup/drop-off location on campus will be at the back of the campus near the Boyette Building.
All cancellations must be called into the agency at (910) 296-2333. A voicemail message can be left on our after-hours message line canceling a scheduled ride. If a cancellation is not called in before 5:00 pm the business day before the scheduled pickup, it will be considered a NO-SHOW. If a rider leaves a voicemail message, it is viewed as a NO-SHOW.
Three (3) NO SHOWS in 30 days will result in a 30-day suspension for the rider.
If a rider NO-SHOWS for their first ride of any day, all other trips for that rider for that day will be
canceled.
All rides/cancellations/etc. It should be communicated with office staff and not drivers.
All rides must be scheduled at least two (2) full business days before the date needed.
Transportation services will not be provided on agency-observed holidays and JSCC holidays.
Disruptive or abusive behavior toward other passengers or the driver will not be tolerated.
No profanity or vulgarity.
No weapons (knives or firearms).
No eating, drinking, or smoking.
No screaming, loud talking, singing, or audible playing of any device (phone/tablet/etc.).
No inappropriate display of affection or sexual activity.
No release of human waste, including spitting, on the vehicle.
Seatbelts must be worn at all times.
Riders are responsible for providing good contact info and any changes as soon as possible.