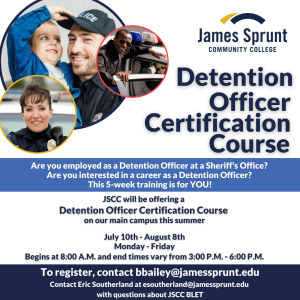 Detention Officer Certification Course
Are you employed as a Detention Officer at a Sheriff's Office?
Are you interested in a career as a Detention Officer?
This 5-week training is for YOU!
July 10th – August 8th
8:00 A.M. – end times vary from 3:00 P.M. – 6:00 P.M.
Located on Main Campus 
Contact bbailey@jamessprunt.edu to register!
Contact esoutherland@jamessprunt.edu with questions about BLET!